Description
Specs
Warranty
Diamond Cord – Unbreakable Rope, that floats!
diamondcord™ is the world's strongest and most durable, unbreakable rope, with a lifetime guarantee. Our unbreakable rope uses patented technology that is five times stronger than steel. Suitable for a wide range of applications and beating the competition hands down! Using diamondcord™ eliminates downtime and inconvenience from broken ropes and lines. There is also no monetary loss from frequent replacements. Applications for diamond cord are endless, some uses include pull cords for recoil rope started devices, marine commercial and industrial, emergency tow-rope for small recreational vehicles, tie-up rope, light-gauge winch line, and other general rope use applications.
Here is a picture of a forklift truck using just 3.2mm diamondcord™ to lift a compactor that weighs 907 kgs / 2'000lbs!
NON CORROSIVE: A significant benefit of diamondcord™ is its anticorrosive properties. It will survive marine and extremely corrosive environments.
HEAT-RESISTANT: diamondcord™ can handle exposure to temperatures of up to 600℉ / 315℃ and will not burn.
ABRASION RESISTANT: diamondcord™ has excellent abrasion resistance and will outperform Kevlar by 15 to one in abrasive applications.
MADE IN USA: diamondcord™ is made in the USA
STRONGER THAN STEEL: diamondcord™ is five times stronger than steel
LIGHT ENOUGH TO FLOAT: diamondcord™ is a floating cord, yet is stronger than steel.
CHEMICAL RESISTANT: In harsh environments diamondcord™ has unique chemical resistant properties
Standard Sizes
2.80 mm Diameter          3.20 mm Diameter          3.60 mm Diameter          5.50 mm Diameter
Breaking Strains
2.80 mm Dia.  Nominal 1,500 lbs / 680 Kgs        3.20 mm Dia. Nominal 2,000 lbs / 907 Kgs
3.60 mm Dia. Nominal 2,500 lbs / 1133 Kgs        5.50 mm Dia. Nominal 5,000 lbs / 2268 Kgs
Custom Sizes Available Upon Request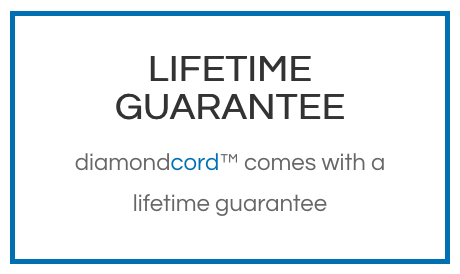 All diamondcord™ products are backed by our lifetime guarantee. You will never need to buy replacement rope again.
diamondcord™ products are available at select retail locations worldwide.
| | |
| --- | --- |
| Weight | 3 kg |
| Dimensions | 30 × 20 × 30 cm |
| Bulk Spools | 2.80 mm x 164ft (49.98m), 3.20 mm x 164ft (49.98m), 3.60 mm x 164ft (49.98m), 5.50 mm x 164ft (49.98m) |
| Box Quantity | x16 Spools |
Diamond Performance no-hassle guarantee!
Isn't it annoying when you pay for something, and then it doesn't work or it breaks after you bought it?
Even worse, when you contact the company who sold you the product, they don't do anything to make it right.
They simply shrug it off, mumble a meaningless apology, or worse yet, they make it sound like it was your fault!
You'll never be treated that way in dealing with us!
We offer a no-hassle, lifetime guarantee on all product lines we sell!
And when we say no-hassle, we mean it! If you have an issue with any diamond Performance product we provided, this is what we'll do:
If our products break or fail, in any way, due to a manufacturing defect or natural wear and tear, we replace it at no cost to you, period!
Simply send us a picture of the failed product and we'll immediately ship out a replacement ( zero shipping cost to you! ), and that's how we offer a truly hassle-free guarantee.
We stand by our products with what we believe is the best No Hassle Guarantee in the world!
Your call is important to us!
Most companies make getting a replacement under warranty difficult just because they won't answer your call, email, etc.
At Diamond Performance, that's never the case!
Customer Reviews