Description
Specs
Warranty
M6 7.7-inch Marine Coaxial Speakers with Transflective™ LED Lighting for Infinite-Baffle Use (100 W, 4 Ω) – Gray Metallic Trim Ring, Titanium Sport Grille
Purpose-engineered and built for real marine duty, M6 coaxial systems deliver maximum audio performance in any open-air boating environment, with the added visual impact of JL Audio's Transflective™ RGB LED lighting..
The oversized 7.7-inch design of the M6-770X coaxial results in increased efficiency (more output for a given amount of power). Combine that advantage with long excursion and excellent power handling and you have a speaker system truly capable of playing loud and clear in a powerboat at speed. The woofer element is optimized to operate with a large volume of air behind it (at least 2 cu. ft. / 57 l). Operating this coaxial system in less space will compromise its low frequency performance.
A 1-inch pure silk dome tweeter, specially treated to withstand the marine environment, handles the high-frequency duties. You will appreciate the clean, articulate high-frequency response of the M6 dome tweeter, especially at higher volume levels.
A multi-order, true 2-way passive crossover is concealed within the woofer chassis, shielded from vibration and corrosion. Also included, is an automatic, solid-state tweeter protection circuit to minimize the possibility of tweeter failure.
Although M6-770X Coaxial Systems can be used with as little as 40 W per channel, for best audio performance we recommend amplifiers capable of between 40-200 W of continuous power per channel. The patent-pending Transflective™ RGB LED technology emits a smooth lighting effect through the woofer cone, with a choice of several lighting colors. Add an optional RGB controller to create thousands of color variations.
Production of all M6 loudspeakers takes place in JL Audio's Miramar, Florida factory, using global components and materials.
Sold as a pair.
Technology
Marine Materials / Testing
Summary:
The design of marine products requires extensive materials testing to achieve reliability and longevity.
Detailed Information:
Building serious marine products requires a real commitment to environmental testing and materials specification. To this end, JL Audio has invested in Ultraviolet testing chambers (to simulate years of sun exposure) and Salt Fog chambers (to simulate years of exposure to salt-water environments. This testing is critical to building products that will not only sound great in your boat, but will also sound great for many, many years.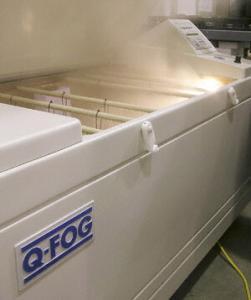 Materials Used:
injection-molded mica-filled polypropylene cone bodies with synthetic rubber surrounds, specifically formulated with UV inhibitors for marine duty.
Marine-grade, synthetic fiber spiders with progressive roll designs to withstand high humidity.
Specifically engineered polymer baskets are corrosion and UV-resistant and encapsulate the woofer's motor system to prevent corrosion.
Gold-plated, marine-grade brass connection terminals
Marine-grade stainless steel mounting hardware is included.

Built in U.S.A. with Global Components
Summary:
JL Audio's Miramar, Florida loudspeaker production facility is one of the most advanced in the world.
Detailed Information:
At a time when most audio products are built overseas, JL Audio's commitment to in-house loudspeaker production continues to grow. To pull this off in a competitive world market, our production engineering team has created one of the world's most advanced loudspeaker assembly facilities and established a global network of quality component suppliers who build to our specifications. This, combined with our commitment to state-of-the-art assembly technology, allows our skilled workforce to efficiently build JL Audio products to extremely high quality standards, right here in the U.S.A.
Since most of our premium loudspeakers incorporate proprietary, patented technologies requiring specific assembly techniques, we find it is vital that the people who designed them have close access to the people manufacturing them. The following JL Audio products are built in our Miramar, Florida factory, with global components:
Subwoofer Drivers: W7, W6v3, TW5v2, TW3, TW1, W3v3
Enclosed Car Subwoofers: Stealthbox®, PowerWedge™, ProWedge™, H.O. Wedge™ & MicroSub™ Enclosed Subwoofers
Marine Loudspeakers, Marine Subwoofer Drivers and Marine Enclosed Loudspeakers
Home Subwoofers: Dominion™, E-Sub, Fathom® and Gotham®
| | |
| --- | --- |
| Weight | 6 kg |
| Dimensions | 50 × 40 × 50 cm |
| Continuous Power Handling (RMS) | 125 W |
| Peak Music Power | 250 W |
| Recommended Amplifier Power (RMS) | 50 – 250 W / Ch. |
| System Efficiency | 90.5 dB @ 1 W / 1 m |
| System Nominal Impedance | 4 Ω |
| System Frequency Response | 38 Hz – 22 KHz ± 3 dB |
| Grille Styles | Classic, Sport |
| Colour | Gloss White, Gunmetal |
| Transflective™ LED Lighting | Optional |
| Frame Outer Diameter (A) | 8.80 in / 224 mm |
| Bolt Hole Circle Diameter (B) | 7.97 in / 202 mm |
| Frontal Grille Protrusion* (C) | 1.37 in / 35 mm |
| Mounting Hole Diameter (D) | 7.375 in / 187 mm |
| Mounting Depth (E) | 5.00 in / 127 mm |
Warranty Information – Marine Speaker Systems and Subwoofers
JL Audio Marine Speaker Systems and Subwoofers are warrantied against defects in materials and workmanship for Two (2) Years from purchase date. JL Audio will, at its discretion, repair or replace any products that exhibit defects in materials and/or workmanship during the warranty period.
Please hold on to your sales receipt! All warranty service requires original sales receipt documentation. The warranty only applies to the original purchaser from an authorized retailer.
Note: Products purchased from unauthorized dealers are not covered under warranty.
Warranty Limitations
The following is not covered under JL Audio's warranty program:
1. Product with defaced, altered or removed serial numbers (no valid, legible serial number = no warranty).
2. Product owned by anyone other than the original purchaser from an authorized JL Audio dealer. (The warranty is not transferable and will not apply to products purchased from unauthorized dealers.)
3. Product that has been physically abused (run over by a car or beat with a hammer, for example).
4. Product that has not been installed according to the instructions in the owner's manual
5. Product in which repair and/or modification has been attempted by unauthorized parties
6. Product damaged cosmetically due to improper handling or normal wear and tear
7. Product damaged in an accident, due to criminal activity (attempted theft, gunshot damage, etc.) or by 'acts of God' (flooding, lightning, locusts, etc.)
8. Custom finishes or other cosmetic treatments applied to products. (JL Audio will not be responsible for restoring or maintaining any custom finishes)
9. Installation and shipping costs associated with removing, re-installing or shipping the product to JL Audio for warranty service
Ask your dealer for details on warranty limitations.
If you need Service on your JL Audio Product:
All warranty returns should be sent to JL AUDIO freight prepaid through an authorized JL AUDIO dealer and must be accompanied by proof of purchase (a copy of the original sales receipt.) Direct returns from consumers or non-authorized dealers will be refused unless specifically authorized by JL AUDIO with a valid return authorization number. Warranty expiration on products returned without proof of purchase will be determined from the manufacturing date code. Coverage may be invalidated as this date is previous to purchase date. Return only defective components. Non-defective items received will be returned freight-collect. Customer is responsible for shipping charges and insurance in sending the product to JL AUDIO. Freight damage on returns is not covered under warranty. Always include proof of purchase (sales receipt).
Customer Reviews